Successful stories and
feedback
I want to thank you all for your help with my relationship with Anna.  I am proud to have been a client of yours and I would certainly recommend your agency to any and all men that seek to find a wife from the Ukraine.  Victoria and I had been in communication for almost a year before my visit.  She is a dream come true for me and I am so happy to now call her my beloved. All best!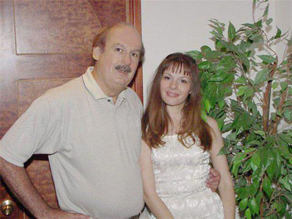 Steve P., UK
Dear sir , I am back in Australia
And I'm already thinking about coming back soon I had the best time of my life in my visit to your country, all the girls were great and the staff excellent mate!e!
Steve T, Australia
I have visited Ukraine several times and met with women from Odessa, Mykolaiv and Kyiv.  But I it wasn't something special for me… I have already lost my hope to find somebody special…and then I've met Svetlana.  She is the sweetest lady I've ever known. We had chats for about three months and I realized that she is the reason of my next visit to Ukraine)  Now I am waiting for my vacation and going to visit your country again
Rob J., UK