Successful stories and
feedback
I went to the city of Odessa on this date, I arrived by a flight of Lufthansa at this hour and I was glad to know that the services provided by your translators were appropriate, and the price fair. I expect to visit my beautiful Freudian soon.
Lars G, Germany
I met a beautiful lady who took the time to show me around, helped me get use to your cultures and talk. In the short time of my visit I communicated with this wonderful girl to a depth I never have before. The beauty, innocence, fun, openness and genuine honesty would be words to describe what I felt!  Her name is Marina.  I have never met such a wonderful person before! And believe me the women of Ukraine stand out more in my memory than others...and I've done a fair amount of traveling.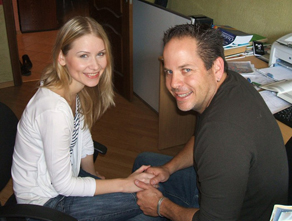 Darrell C., Canada
I came to Kiev, first time in March, after couple months of exchanging emails.  I was hoping to find a female friend, see a lady I was corresponding to in real, learn some Russian, and do some sightseeing…     I met my lady the first day, and it had been wonderful.  We had a chat in a cafe and we took a walk into a park together. She had a beautiful smile, and her eyes were so happy, I asked her for a phone number and since then we keep in touch.
I want to thank your team for this exciting meeting!!
Martin L., USA